4 Spindle Transformer Coil Winding Machine India
Automatic electrical coil winding machines are used to wound coils for transformers, inductors, chokes, motors etc.
This machine is also used in winding applications for solenoid coils, relay coils, speaker coils, microphone coils and air coil winding.
We are the leading supplier, dealer and exporter of programmable coil winding machines with full service & support after sale.
Designed and developed with help of sophisticated manufacturing technology the robust quality machine is accessible with standard accessories at a market leading price.
Machine Description:
This machine can be adjustable to suit different winding requirement by just changing suitable Tensioner, wire guides, and winding mandrels.
This machine based on Micro controller to control the programmed parameters, described keyboard for enter of numeric values and parameters, it has a 100 program memory coupled with set of programmable parameters and reset auto/manual, soft starting time and soft stopping turns to achieve complex windings like,
Conical Winding
Sectional Winding
Different pitch Winding
Layer Winding
Specification
| | |
| --- | --- |
| Machine Model | WCE-804F |
| Number of Spindle | 4 |
| Wire Dia. (mm) | 0.02~0.2 |
| Spindle Speed (rpm) | 6000 |
| Bobbin Diameter | 100 mm |
| Wire Pitch | 0.01~9.99 mm |
| Control Mode | Micro Computer Control |
| Memory Capacity | 0~999 Inputs |
| Traverse Width | 1 mm to 100 mm setting unit by 0.01 mm |
| Main Motor | AC or DC Motor |
| Traverse Motor | Stepper Motor with step angle 0.9 deg. |
| Application | Small transformers, solenoid, relay and all other wound products requiring multiple windings |
| Package Includes | Margin Tape & cover tape attachments and wire feeder system, footswitch and comprehensive manual |
| Wire Size | 0.02 to 1.0 mm |
| Dimension (cm) [LXWXH] | 66x102x110 |
| Optional Device | Tension meter, Reel cover, Tail support |
Our machine are available with different models as follows,
Single Spindle – Side loading / Front loading
Dual Spindle – Side loading / Front loading
Four Spindle – Side loading / Front Loading
Semi Thick wire Machine Single Spindle – Side loading
Thick wire Machine Single Spindle – Side Loading
Additional Features:
Durable nature
Affordable costs
Easy to use
Longer working life
Top performance
With more than 30 standard coil winding models, we have developed Coil Winding Machine which is suitable to wind simplest to complicated coils which can be from few turns to thousand of turns in the bobbin or without bobbin.
With various optional accessories any specialized coils can be wound using this AEX series winding machine.
This machine is one of the most featured product in winding industry with rigid construction. In addition to this, we offer this winding machine to our clients at most reasonable prices.
4 Spindle Transformer Coil Winding Machine India
Working Video of the Machine :
Operating Guide for CNC Winding Controller
Function Introduction :
This computer controller adoption is latest synchronous line up line with the auto tracking, accuracy is very high, can't block the machine phenomenon in exceed the speed limit.
Over-intelligent mode has self-testing function including editing errors over-speed tracing and correcting speed.
Adept the latest exchanging power supply and best stability.
During programming has cursor card foot function, easily testing out the width and starting position.
During programming change rising speed time with the property of the controller.
During winding has detecting function, adjusting the speed of winding spindle shaft to stabile status.
Switch display to show PIECE COUNT or RPM.
Super and big memory capacity can access 1000 a prefaces.
A group of RS-485 connector, to communicate with personal computer and managing winding data.
During editing, select break times due to controller's property wire's diameter and winding speed.
CNC Controller Introduction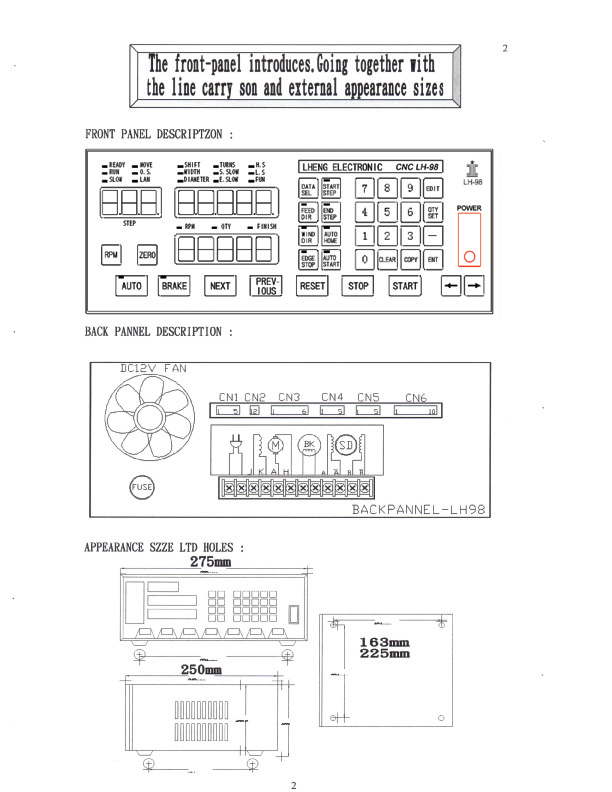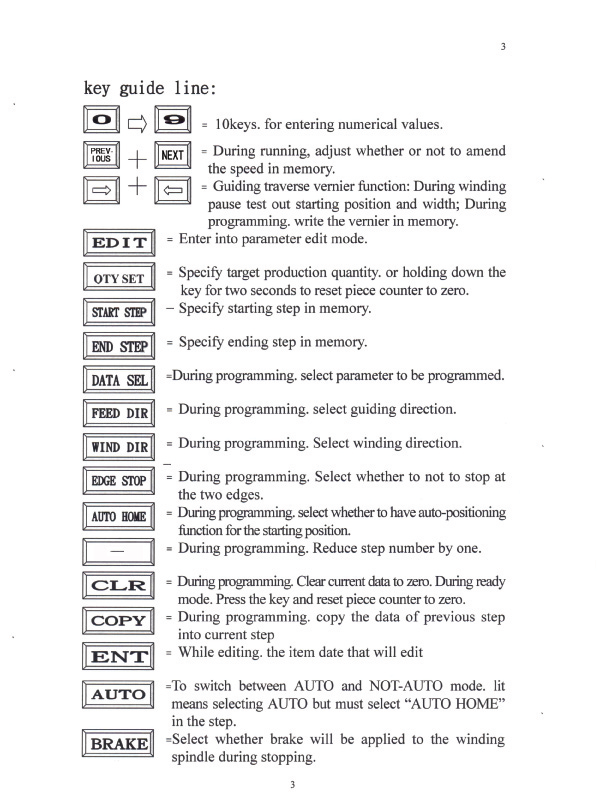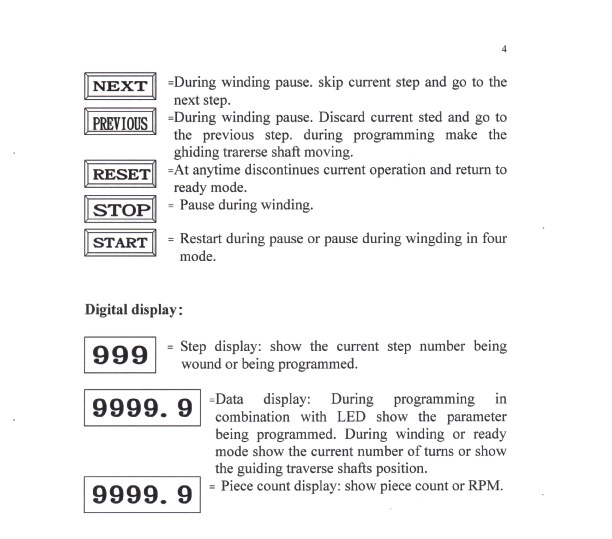 4 Spindle Transformer Coil Winding Machine India
12 Spindle Automatic Transformer Coil Winding Machine
Status Indicators :
READY : lit means in Ready mode, (flash means Pause mode)
Not lit means winding or programming in progress.
RUN : lit means winding in progress.
Not lit means not in progress
SLOW : During winding, lit means low speed winding
Not lit means high speed winding or ready mode.
MOVE : lit means winding operation is over speeding, guiding traverse and winding spindle shaft is out of synchronization.
O. S. : Over Speed
LAN : lit means currently communicating with network.
Winding Data Editing :
Editing item Data Instruction:
Shift : Starting Position : The row line machine starts round the line it to order out the line this point calculates to rise with the machine pole is a little bit original setting, setup the scope is 0-999.98 millimeters. (extend to 999.98mm)
PS : During editing regard 999.99 starting position as inner code of continuous guiding traverse.
Width : During editing, real width of winding by wires editing ranges is 0-999.99mm
Diameter : During editing, the real diameter of wires (including the thickness of corners), editing range is 0.001-9.998mm
Turns : During editing, the number of turns range is 0-999.9
S. slow : During programming, the total number of turns for winding with slow speed first, the range is 0-999.9
E. slow : During winding, before reaching total number of turns, ahead descend low speed for winding, range is 0-999.9
H.S. : During winding, the speed of winding with high speed, range is 0-99%
L.S. : The speed of starting slow winding and stop slow, range is 0-99%
FUN : Auto tracing: Editing indicating act of auto tracing, select between ON and OFF.
Option item data instruction :
Wind DIR : Setup choose the principal axis of the step's preface row line direction, clockwise or anti-clockwise winding
Feed DIR : During programming, select guiding direction lit means guiding from outer to inner.
Error 1 : During editing, the parameter of starting position is more than that of guide traverse shaft
Error 2 : During direct winding, starting position and the width are more than PS of the guiding traverse shaft. Guiding traverse is fixing the starting position for winding or detecting during starting.
Error 3 : When contrary winding, starting position is less than width.
Edge Stop : During programming, select whether or not to stop at two edges. Lit means edge stop.
Auto Home : During programming, select whether to have auto-positioning function for the starting position. Lit means auto home.
Auto Start : During programming, select whether to have auto start function. Lit means  auto start.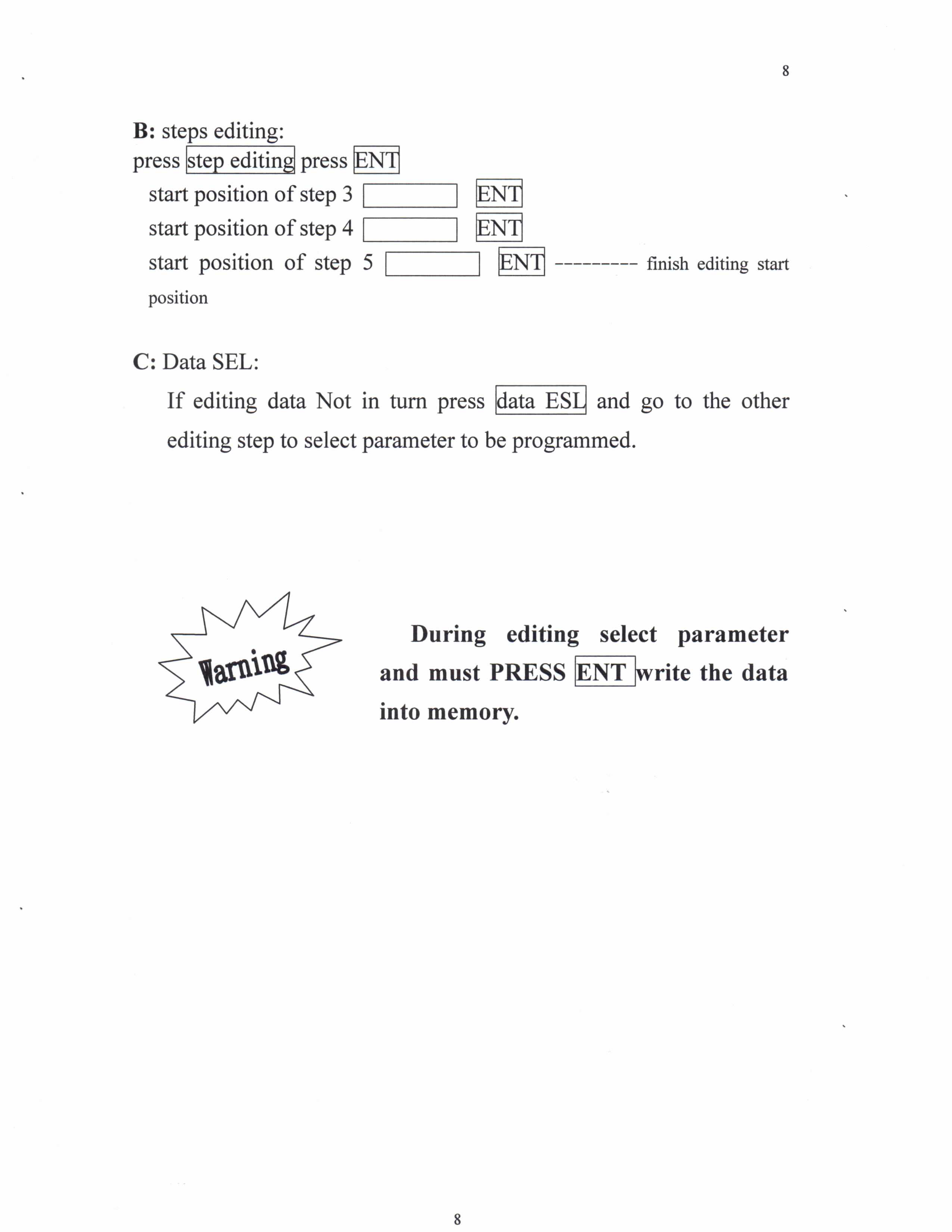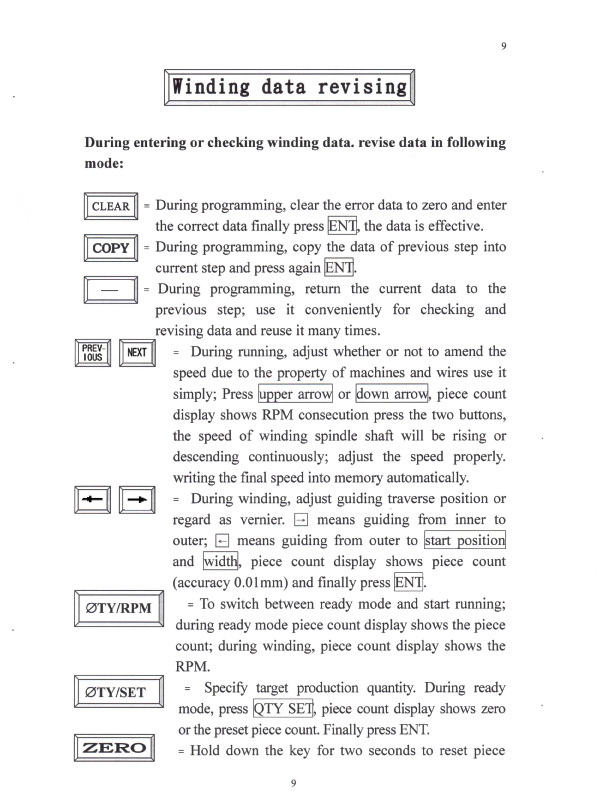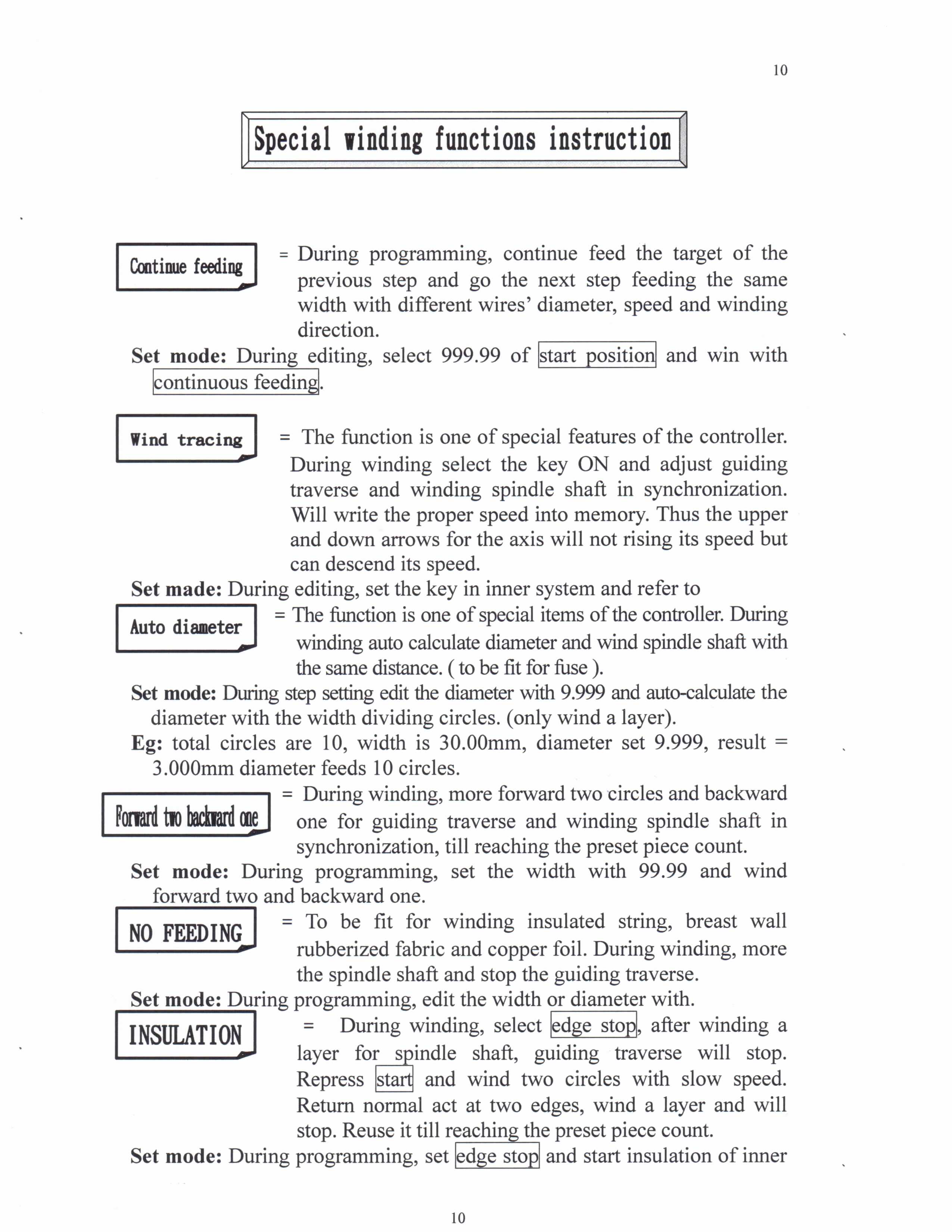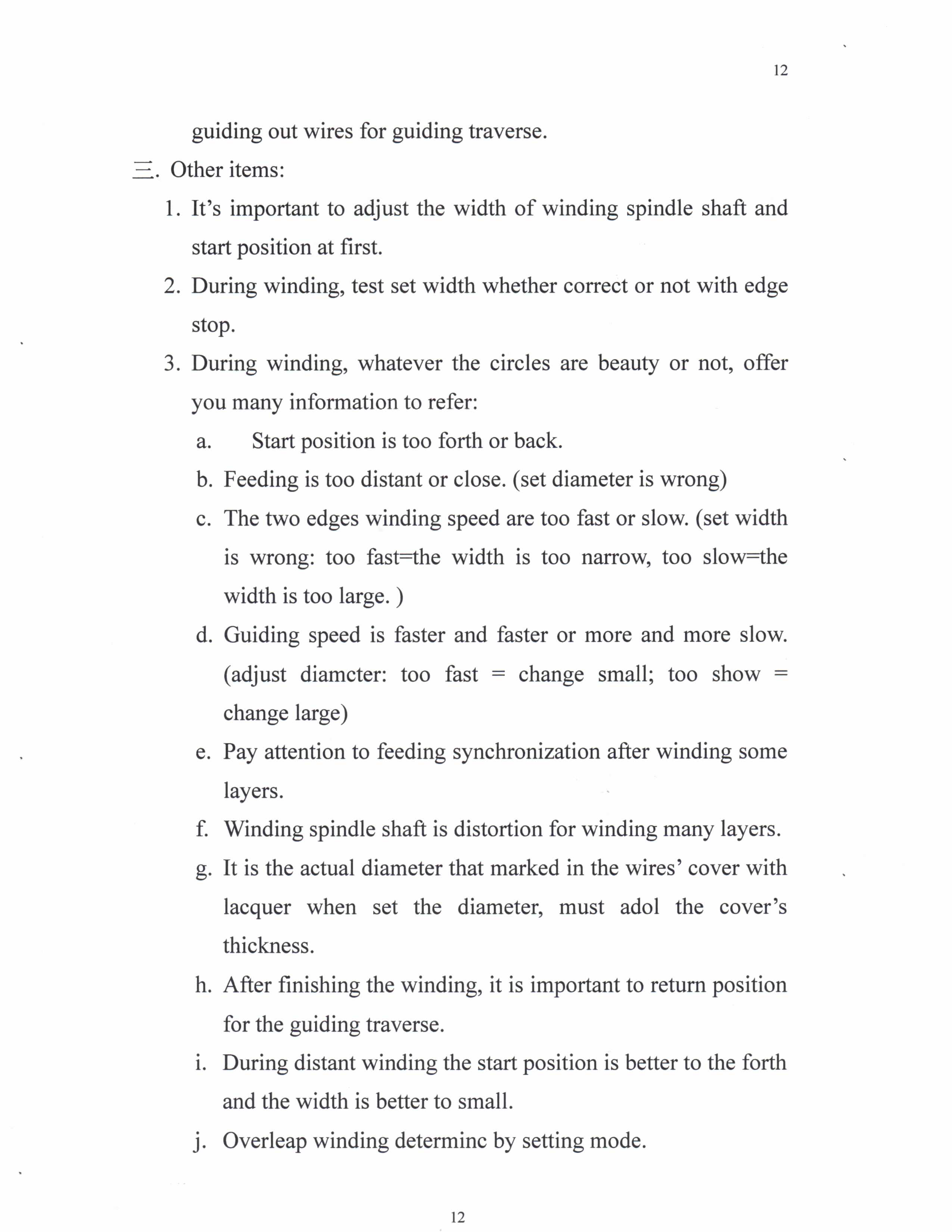 4 Spindle Transformer Coil Winding Machine India
Traverse Guide Stepper Motor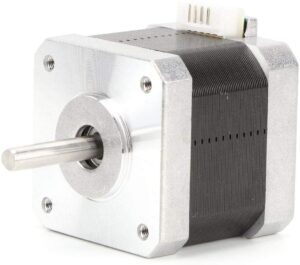 The motor can respond quickly, start and stop quickly, and meet the high requirements of security.
1.8 degree step angle, 0.4N.M holding torque, with 1.5A rated current per phase. High speed, rated speed is 600 rpm.
This small stepper motors can be used in various area, such as 3D printer; stage lighting; laser engraving; textile machinery; medical equipment; placement machine; non-standard equipment; automation equipment etc.
Motor Specifications :
| | |
| --- | --- |
| Motor Type | Stepper Motor |
| Voltage | 24V |
| Current | 1.5A |
| Rated torque | 0.4 NM |
| Rated speed | 600 RPM |
| Efficiency | 80% |
| Step angle | 1.8° |
| Insulation resistance | 100MΩ Min, 500 V DC |
| Resistance accuracy | +-10% (20 ° C) |
| Withstand voltage | 500V AC/Min |
Spindle Move Motor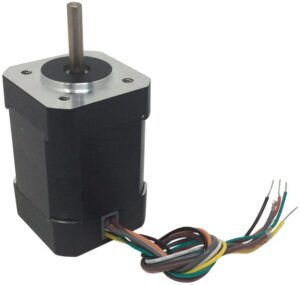 BLDC 24V 5000rpm Brushless
Brushless DC Motor; Rated Voltage : DC 24V
The DC Brushless Motor Made of 100% pure copper coils, Longer Service Life; Suitable to small diameter, low noise and big torque application.
Motor Specifications :
| | |
| --- | --- |
| Motor Type | Brushless DC Motor |
| Rated Voltage | 24 VDC |
| Rated Power | 105W |
| Rated Current | 5.9A |
| Rated Torque | 150 mN.m |
| Efficiency | 90% |
| Bearing | NMB Ball Bearing |
| Motor Housing | Stainless Steel |
| Protect Feature | Explosion proof |
Single Spindle Coil Winding Machine India Manufacturer