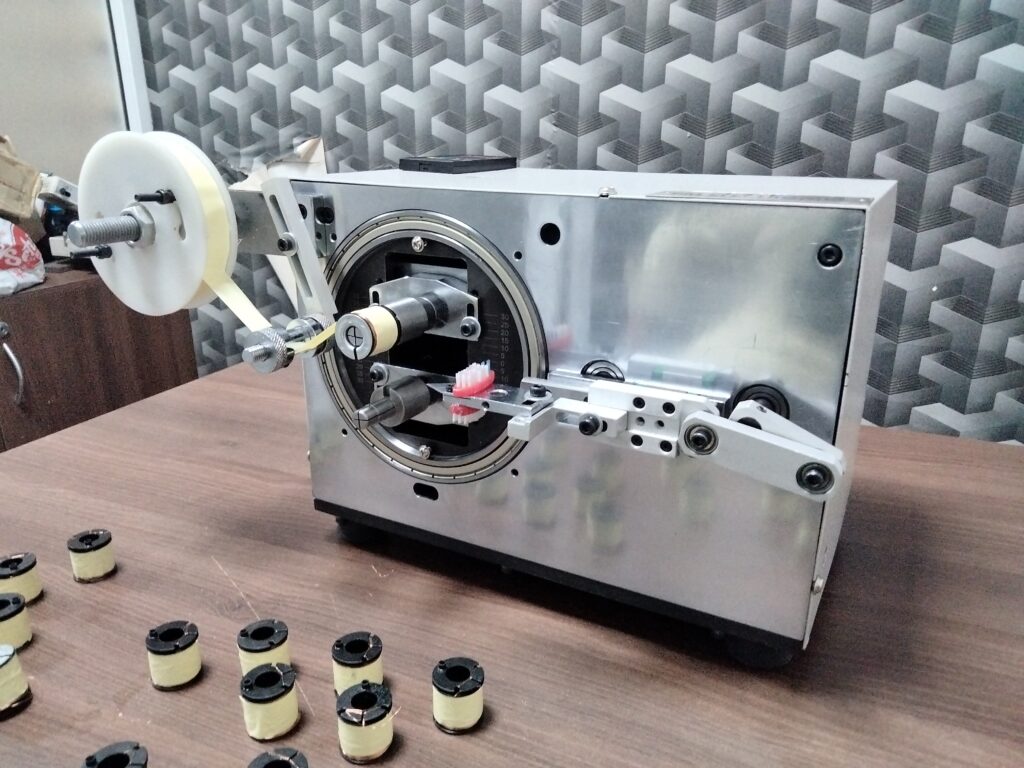 The semi automatic Relay coil or transformer coil taping machine is used for taping the insulation adhesive tape or bonding tape on the coil and core of the transformers or inductors, to fix the EI core or EE core or ET core within transformer or inductor, and used taping adhesive insulation tape for transformer coil, inductor coils, relay coils, ignition coils, contactor coils, solenoid valve coils etc.
Relay or Solenoid Coil Taping Machine Manufacturer India
We have a perfect quality assurance and after-sales service system to ensure the good reputation of our all machines. As one of the leading winding and taping machine manufacturers and suppliers in India, we warmly welcome you to buy cheap winding and taping machine made in India here from our factory. All customized products are with high quality and competitive price.    
Why do we use tapes in Relay & Solenoid coils after winding?
Not just in relays, but most coils made of enameled wire have to be better insulated if a turn can touch other turns that have many turns among them.
The problem is the very low insulation that the enamel presents, mostly due to cracks that exist in the enamel (the maximum voltage that an enameled wire will withstand against another wire of the same type is usually lower than 200V).
The insulation provided by enamel is quite enough to insulate two consecutive turns, twenty consecutive turns or even (in some cases) a hundred consecutive turns. But not to insulate much more than this.
So, the tape is used to insulate turns that have too high voltage (between them) to be handled just by the thin a fragile enamel layers over the conductors.
Machine Specifications
| | |
| --- | --- |
| Features | Automatic taping with  bobbin change-over. Tape cutter with start and finish wiper and automatic  unload. 2 handed start button operation. Number of turns of tape is  programmable from 1 to 9 turns. |
| Cycle Time | Typically 3 seconds per bobbin for 2 turns of tape, cut and auto unload. |
| Application | Taping of ferrite cores, EI  laminations and wound coils, relay coil, solenoid coil |
| Min. Bobbin Size | 12mm of wound coil cross section, EE-08 to EE-28 |
| Production | Min. 1500 pcs, Max. 2200 pcs per hour |
| Supply reel dia | 76mm I.D. standard – other  sizes available |
| Changeable Parts | Tape roller attachment, winding jigs (tooling), cutter and wiper fixture, safety cover, tape backing removal feature |
| Power | AC 230 / 110 V ± 10%, 50 – 60hz |
| Dimensions | 600 L * 650 W * 300 H (mm) |
| Net weight | 45 kg |
The relay or solenoid coil is placed by an operator on a rotating spindle, and the machine automatically applies the required number of turns of insulation tape, secures the end of the tape with a wiping action, and  ejects the  coil from the machine.
This taping machine is ideal for larger batch quantities of coils, with very high repeatability and fast cycle times.
The machine is designed to operate with a wide variety of insulation tapes, including Kapton, Polyester, PEN, PVC, PPS, and most other  woven and non-woven types.    
Machine Working
1. Manual insert bobbin
2. Automatic tape coil
3. Automatic cut tape
4. Manual unload products    
Machine's Operating Video
Scope of application
Suitable for TAPE high-frequency transformers tape, low-frequency transformers tape, inductors taping, drum core coils, solenoid coils, relay coils, contactor coils etc.    
Instructions for use
1. Please use 110v ,220V ± 10% / 50HZ power supply.
2. Do not place the device in a strong electromagnetic interference environment.
3. Equipment should be -10 ℃ -40 ℃ 95% RH non-condensing environment use.
4. Main circuit board is susceptible to electrostatic damage and damage, do not touch the main circuit board.
5. Do not start and shut down the power frequently, turn off the power after 10 seconds before starting.
Types of Insulation Tapes used in coil or core taping
Different sorts of electrical protection tape are accessible, each offering novel properties and advantages in light of the particular development material. A couple of the most famous sorts of tape are recorded underneath.
Polyester tape
Constructed of a thin film, polyester tape offers superior electrical, chemical, and mechanical properties. It can be used in a range of service temperatures, standing up against cold weather while providing high heat resistance (-100 °F/-73 °C to over 500 °F/260 °C). Adhesive transfer is minimal. Polyester tape also has high abrasion resistance along with high dielectric strength.
Transformer Insulation Tape
Transformer insulation tape is flame-resistant and can stand up to high heat exposure. This tape offers great adhesive properties and can be used to create a tight coil construction.
Transformer insulation tape is commonly used for:
Lead insulation
Coil wrapping and banding
Dry-type and oil-filled transformers
Black Vinyl Tape
Black vinyl tape is constructed from vinyl film and is coated with rubber adhesives. It is the industry standard due to its optimal weather resistance and UV resistance. Numerous colors are available, and the tape can be removed easily without leaving behind heavy adhesive residue.
What tape is mostly used for relay coils?
Polyester tape is a rich quality tape. The polyester tape uses include material mainly used for Relays, SMPS transformers and electrical relays for temperature application up to 130°in general-purpose insulation.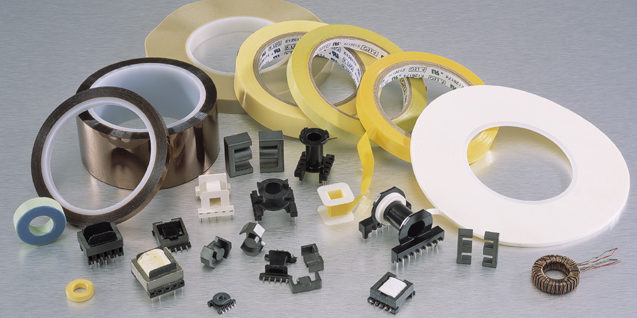 Applications of Polyester Tapes
Film and foil capacitors
Phase and coil – end insulation
Very good varnish resistance properties
Strengthening of edges for slot
Core Layer and final insulations of transformers, SMPS, chalk, coils etc
Final wrapping of cast resin capacitors
Transformer windings
Cable jointing
Other Usages of Taping Machine
Mobile Charger Cabinet/ Plastic Box Taping
Solenoid coil Taping
Relay coil taping
Drum core & inductor taping
Taflon taping applications
USB shell paste protective film taping
Contactor Coil taping
Small DT and large transformer taping 
More Information
We are manufacturer of Coil & Core Taping machine in coil transformer manufacturing industry. The insulation tape automatic wrapping machine can wrap the insulation tape onto EI75 transformer.
This transformer tape taping machine is used for wrapping the insulation tape on the wire coil winding and wrapping the tape on the transformer ferrite cores to bond the ferrite cores.
This transformer coil insulation tape wrapping equipment has two taping spindles to run in cycle together so that enhance the taping machine efficiency.
This transformer tape taping machine be called coil tape wrapping machine, winding tape tapping machinery and ferrite cores bonding taping equipment also.
Transformer Coil Core Taping Machine Manufacturer India
More details, please contact freely :
PM Electronics
Contact : Deepanshu Saxena
Mobile : +918800622761
WhatsApp : https://wa.me/918800622761
Email : [email protected]