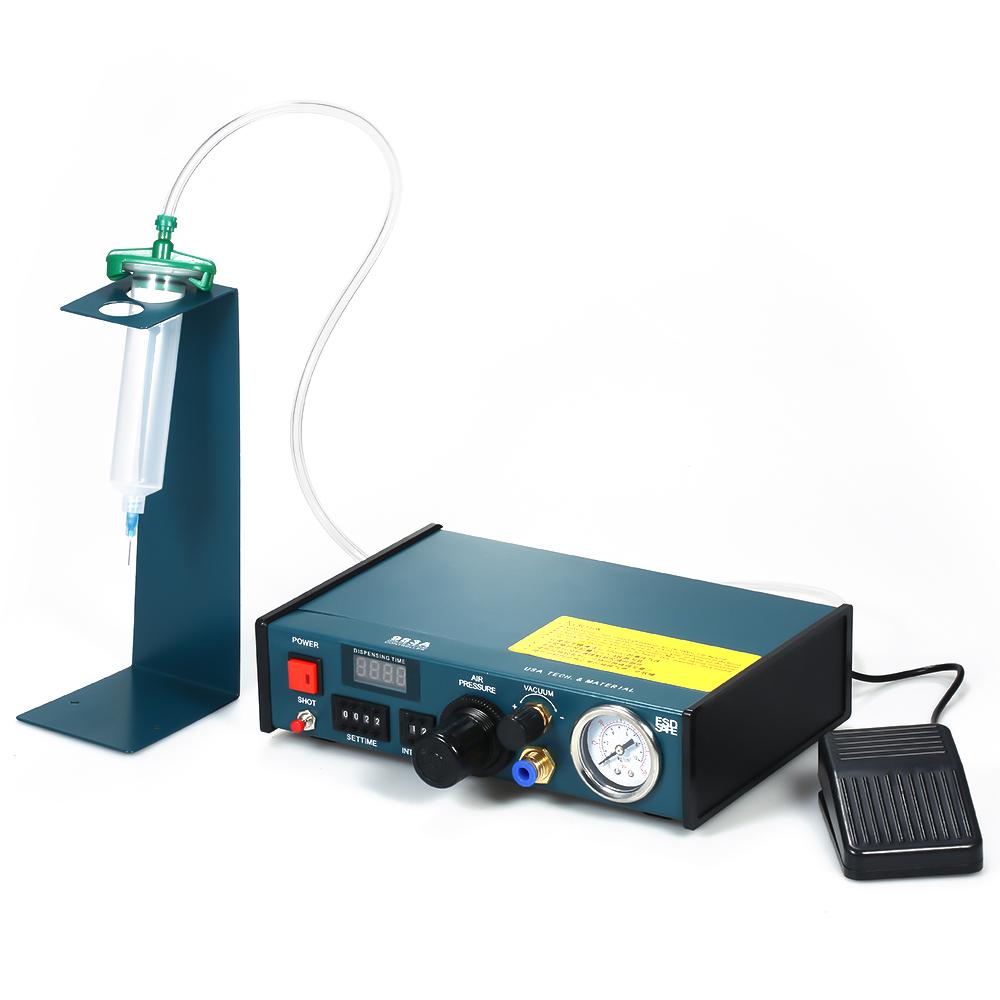 About Glue Adhesive Dispenser Machine
An adhesive dispensing machine is a device used to apply bonding media and to mix, meter and dispense adhesives.
An adhesive is a substance that bonds two or more solids together. For example; glues, resins, putties, silicones, pastes and cement.
Dispensing systems come in different types, with different functionalities and configurations. They are used for bonding, potting & sealing processes and also to produce gaskets.
The two main variants for dispensing systems are the manual and automated dispensers.
The Precision Dispensing Controller has a case to be the most customizable and versatile programmable fluid gadget available.
Time/pressure gadgets have been utilized for quite a long time for the use of glues, ointments, inks, transitions and an entire host of different materials, controlling the amount delivered in both manual and mechanized processes.
Precise Automatic Glue Adhesive Dispenser Machine
Features:
Glue Dispensing Way: 16 kinds of free setting modes, with split time display.
LED Screen: LED screen displays the readout clearly, digitalized control to provide more accurate glue dispensing.
Pressure Gauge: The precision pressure gauge prevents the burst of the air pipe.
Precise Control: built-in electro-valve to precise control the dispensing drops and dispensing cycle.
Automatic Glue Dispenser: humane functions, easier operation. Accessory: components are fully equipped, easy to install.
Circuit Board: exact circuit board ensures the reliability of product and stable performance.
Wide Application: widely used in electronics, aviation, optics, chemistry, automotive, medical, petroleum, packaging, jewelry, machinery and other fields.
Dispensing Materials: 
Injection of liquid droplets, including quick-drying glue, red glue, yellow glue, epoxy resin, selenium, selenium, selenium, selenium, selenium, Glue, lubricants screw locking glue, flux and tin pulp, complete product support, play note drip function.
Application: 
Automotive electronics, packaging, household appliances, bearings, lighting, electronic components, jewelry and so on
Specifications:
Plug Type: EU plug / US plug (Optional)
Power consumption: <12W
Material: Metal
Voltage: AC220V, 50Hz(EU plug), AC110V, 60Hz(US plug)
Minimum Deposit: 0.0001ml
Air Input: 10-100psi (clean dry air without lubrication)
Air Output: 1-80psi
Spit pressure adjustment range: 0.05MPa–0.99Mpa
Discharge time display: four-digit LED display, you can fine-tune the discharge volume at will
Vacuum suction function: adjustable negative pressure control to 600 mmHg
Repeatability and output frequency: accuracy: +0.01% frequency: >800 times/min
Minimum discharge volume: 0.0001ml
Output Interval: 0.1-9.9s (Auto timing function)
Item Size: 235 x 198 x 63mm / 9.25 * 7.80 * 2.48in
Package List:
1 x Glue Machine
1 x Foot Switch
1 x Dispenser Stand
2 x Liquid Barrel
6 x Steel Needle
1 x Air Tube to Barrel
1 x Air Tube to Air Supply
1 x Power Cable
1 x Manual (English)
What is a dispensing system?
Dispensing systems deliver precise amounts of liquid in the nanoliter, microliter, and milliliter range into a microplate or tube.
Dispensers can be manual or automatic, from a basic single-channel design to multichannel systems.
Types include bottle-top dispensers with pulse-free dispensing and digital control, bulk dispensers, and complete automated liquid handling workstations.
They are used in drug discovery, genomics and proteomics, materials science, forensics, and food safety.
Microprocessor-controlled syringe pumps offer precision and speed, while peristaltic pumps tend to reduce back-flushing, among other benefits.
Systems that combine both pump types into one system eliminate the need to purchase multiple instruments.
A key term in dispenser technology is modular design, which enhances performance by enabling automatic changeover of volume range, tip configuration, or dispense heads.
How glue dispensing equipment can improve your processes
From fully automated glue dispensing systems to individual valves, tubes, mixers and other precision glue dispensing equipment, we supplies you need to manage adhesives in your manufacturing process.
Browse our extensive selection of parts, including valves, tips, hoses, applicators, syringes and more designed to apply ambient temperature liquid adhesives in a wide range of industrial glue dispensing applications.
Whether you work in the electronics industry, automotive industry or medical supply and pharmaceutical industry, our glue dispensing solutions will enhance your precision and efficiency, simplifying your systems and saving you money.
GALLERY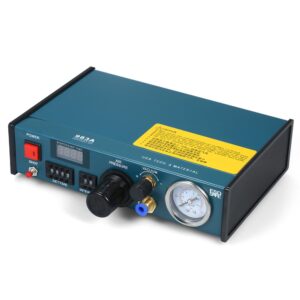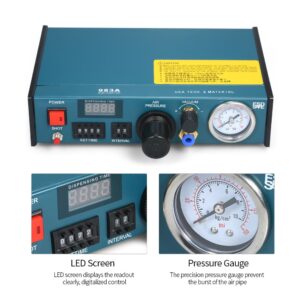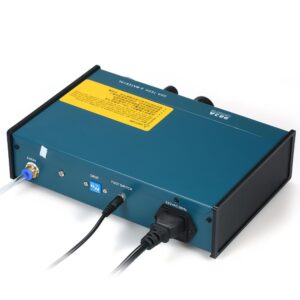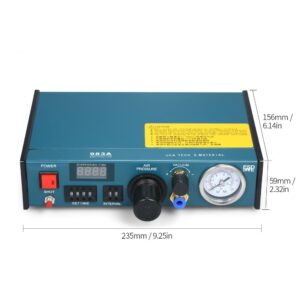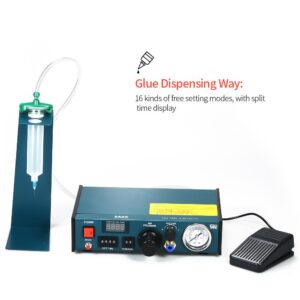 More details, please contact freely :
PM Electronics
Contact : Deepanshu Saxena
Mobile : +918800622761
WhatsApp : https://wa.me/918800622761
Email : [email protected]
Dispensing Applications
Our administering applications satisfy the excellent needs and security necessities of different ventures.
Protection from external influences
The requests on part quality and security are expanding in all industry areas. Items are presented to high loads over their administration life and should dependably satisfy their capacity.
To guarantee this, parts should be safeguarded against outside impacts like dampness or overheating and protected from electrical or attractive fields.
For every application, process-dependable apportioning innovation with the most noteworthy conceivable exactness and reproducibility is required.
Moreover, the most ideal cycle bring about the briefest conceivable time is strived for. Every application arrangement is adjusted to the exceptional highlights of the particular materials, so that the ideal administering result can be accomplished, considering the client explicit prerequisites.
Processes should be created which, from one perspective, meet the singular properties of the materials however, then again, produce low expenses.
Dependable, effective and excellent administering advances can fundamentally work on the security and administration life of parts and parts.
The fundamental cycle innovation ought to generally be thought about comprehensively, as effectiveness isn't just subject to the interaction, however factors, for example, capacity, relieving techniques or the plan of the part are additionally significant.
Modern applications
All administering applications center around quality, adaptability and proficiency.
Auto Electronics
Electronic control units, tire pressure sensors, headlights and entryway handles are fortified, fixed and exemplified. Greatest accuracy and exactness are fundamental elements in this cycle.
Driving help frameworks
Cameras, radar and LiDAR frameworks and sensors are fortified or exemplified to safeguard them from outside impacts. The quantity of electronic help frameworks in the vehicle is expanding quickly, and with it the administering applications.
E-Mobility
Battery cells are fortified, battery cell lodging covers are fixed, and thermally conductive materials are applied to forestall overheating. Electromobility is the eventual fate of versatility.
Clinical innovation and pharmaceutics
Holding shows on clinical gadgets like patient screens, as well as holding needles into glass or plastic needles, and preparing dialysis channels are commonplace applications in the clinical and drug enterprises.
Telecom
Advanced applications have never been however significant as they seem to be today. The advanced change requires a wide scope of electronic parts, for example, 5G remote radio wires, switches, base stations for LTE organizations, and so forth.
PM Electronics
Contact : Deepanshu Saxena
Mobile : +918800622761
WhatsApp : https://wa.me/918800622761
Email : [email protected]